CQHA National Amateur Team Tournament Teams
MARY RATZ BC
WENDY KEMBLE AB
ANDREA ORTT SK
WANDA MCFADYN MB
SHELLEY MARTINI ON
SONIA VILANDRE QC
SYLVIA HOYT MT
SHANNON CAIRNCROSS-TAYLOR ON
JUSTIN WOODLEY ON
JESSICA BARTRAM AB
BestGetYourWallet is a 2016 AQHA Stallion, he is 15.1H and 4 Panel N/N, N/Gbed, Homozygous Black, W20+. Owned by Lisa Turkington Scerbo of Leamington, Ontario.
KARLA GALLOP BC
SANDY KIRTZINGER AB
SANDI HEBIG SK
COURTNEY PENNER MB
MALLORY MCKEWAN ON
LAURA MALENFONT MT
JODY O'NEIL ON
MICHELLE MASON ON
TYLER BENNETT AB
CARISSA MCGREGOR AB
Good Intentionz is a 2018 Canadian bred Perlino AQHA stallion, he is 5 panel N/N and is sired by Canadian stallion He Shootz He Skorz , and out of Falina Would Whirl by Gold N Skedadle. He is the young new herd sire at Kirtzinger Quarter Horses, 30 year+ AQHA breeders located in Hay Lakes, AB
CHERRIE CORRIGAN BC
KAYLA MITCHELL-CHADWICK AB
KENDRA ROSWELL SK
JENNIFER MCKINNON MB
CYNTHIA GLOVER ON
MATHIEU CORMIER QC
HANNAH SEARLE MT
ASHLEY STONE ON
CHRISTINE ST JEAN ON
TRACY MILLS AB
Keeping It Awesome is a 2016 16h Canadian bred AQHA Stallion, he is 5 panel N/N and is welcoming his first foal crop in 2022. Sired by Keeping It Good, and out of a mare by An Awesome Mister, he is bred/owned by Tracy Dineley of Ontario
RACHEL DOWARD BC
MAUREEN JOHNSON AB
KEEGAN BURT SK
MAUREEN EPP MB
SHERYL CHILLSON ON
ALYSSA LESSARD QC
AMY RICHARDSON MT
CINDA SANDER AB
KARLA LEHMANN AB
KATHLYNN PELTZER AB
Blu Dualin Boon is a red roan 5 panel Negative, 15.1hh son of Industry Leading and Milion Dollar Sire, "Once In A Blu Boon" NCHA earnings LTE 318,000, out of a Ncha money earner, NCHA and NRCHA producer, LTE 50K. Boon's first foal crop arrived in the spring of 2020.
ANDREA ROBINSON BC
RENEE DIERDORFF AB
CARRIE JANSEN SK
HEATHER HEIN MB
BEN DEBROUWER ON
GINETTE MONREAU QC
JOSIE D'ENTREMONT MT
JENNIFER MISENER ON
KIM ALLEN ON
ANDREA RANDLE AB
Rollin In My Dually "Winston" is just one of the stallions standing at Fleetwood Farms Quarter Horses. Located in Champion, AB the multi-generational ranch also stands AQHA stallions: Silver Assured, Silver Lincoln, Champ Silverado, Pegasus, and Dun It Ok.
ANDY HELLQVIST BC
JEN PENNY AB
KAREN LINNELL SK
CINDY ROUTLEDGE MB
LESLIE RILEY ON
JULIE TREMBLAY QC
EMILY CAMERON MT
KAILEY CHABOT SK
ELIZABETH ANDERSON ON
DEBRA RICHARDS AB
MY SLEEPY VALENTINE is a 2015 sorrel AQHA Stallion sired by NSBA World Champion and AQHA World and Reserve World Champion My Vital Valentine and out of Im Behind In Sleep. 2017 NW Emerald Masters Champion 2 year old Western Pleasure, his first time shown. 2021 NW Emerald Masters Champion sire.
MARALYNN REHBEIN BC
MELANIE ROUND AB
LISA GRAHAM SK
THERESA BARYLSKI MB
JUDI WOODLEY ON
KARINE BISAILLON QC
JULLIETE BOND MT
CALE THOMPSON ON
BONNIE QUANCE AB
JOAN LUCAS AB
Sirtainly Sierra is a 15.3 H bay, AQHA stallion, 5 panel NN, LWOP NN, AQHA Superior stallion earning 76.5 pts. AQHA High Pt. Sr. Stallion – 4th, multiple Canadian National Champion and Canadian National Supreme Champion. He is owned by Graham Halter Horses located in Aylesbury, SK.
TAMARA JAMESON BC
SHELBY DEVET AB
BOBI JAMES SK
LYNN SANDERCOCK MB
HOLLY ROBINSON ON
MEGAN MATHIEU QC
KIM ARTZ MT
SHELLEY TREITZ ON
SARAH BLACK ON
HEATHER HASELOH AB
TheWayTheWestWasOne is a 5 panel negative 2007 15.3hh seal brown Canadian bred AQHA Stallion, sired by Canadian bred stallion One Hot Krymsun and out of Rolls Radicalle by Radical Rodder. He's Big, He's Brown, He's Beautiful and He's Back in Canada!
LEA-ANN OOSTERHOFF BC
JENNIFER FOISY AB
KAREN BISCHOP SK
TALIA BERTRAND-MEADOWS MB
JODY PEARCE ON
HANNAH MORE QC
ANGELA GEDDES MT
ANGELA BIGLER SK
TALISSA GERVAIS SK
BONNIE HATCH ON
Laidlaw Stables is extremely proud to stand 'TY'. An own son of Congress Western Pleasure Champion Macs Good N Plenty x Misstig Rebel. 'TY' is 5 – Panel N/N. Sire Record includes: NSBA BCF World Champions, Reichert's and Tom Powers Futurity Champions, Reserve Congress Champion – (Sales Stakes Class), High Selling Horse – Congress Super Sale, multiple NSBA – Bronze Trophy Winners, many multiple AQHA 'All Around' Earners and High Point Circuit Champions !!!
DANIELLE BANNERMAN ON
RACHEL DEVET AB
ANDREA TESSIER SK
SANDRA DUHAMEL ON
JESSICA MOSLEY CAIRNCROSS ON
JOHANNE FENWICK ON
SHANNON RICHARDSON AB
JOELLE JOHNSON AB
NINA CONNERS AB
DANIKA MORTON ON
Yall Hashtag This, is a 2016, 6 panel negative, 15'1 hh chestnut AQHA Stallion, sired by Machine Made out of KM Hot Number by RL Best Of Sudden. A full sibling to Nothing But Nett, Air Ryde, Made Ya Look, he is a Tom Powers & The Madness champion, with over $15,000 in earnings. Owned by Kate Bamford of Alberta
PROUD SPONSORS: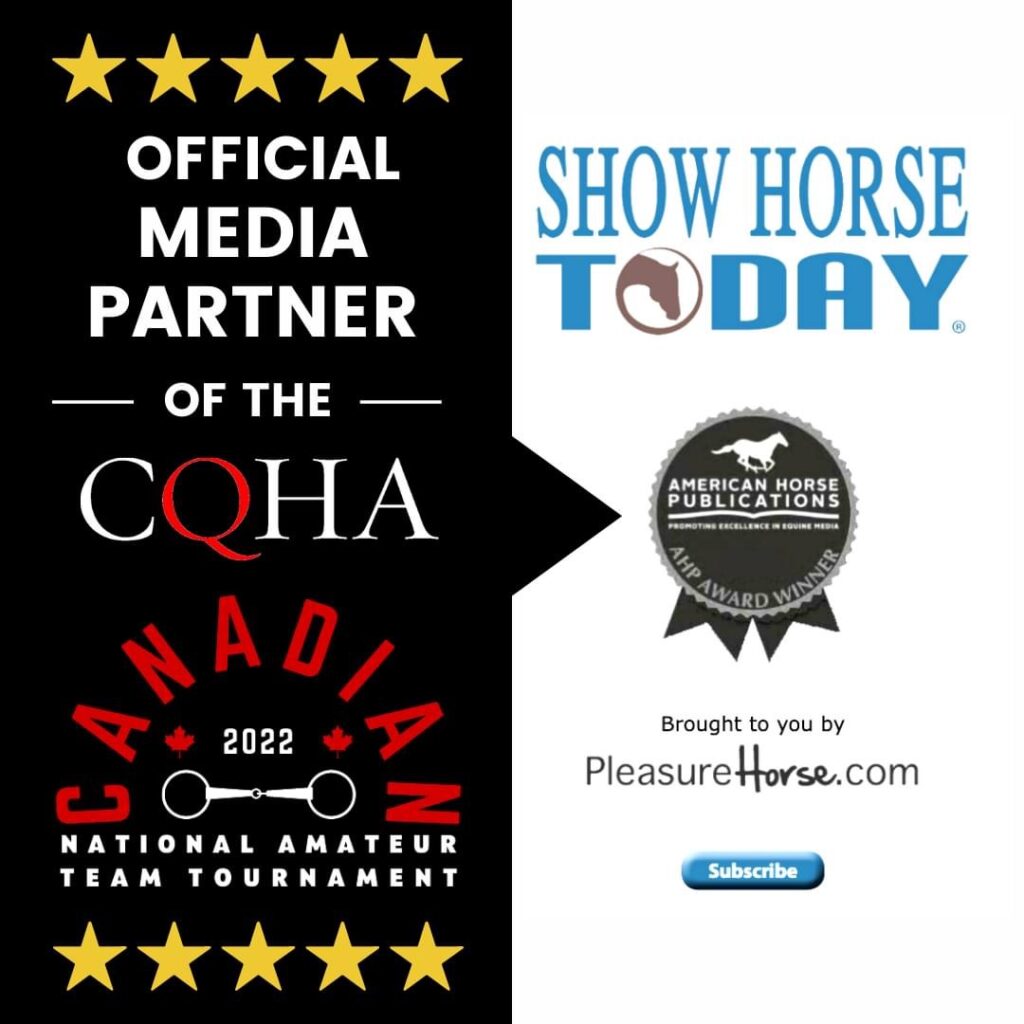 Teams
Meet the CQHA Amateur Team Tournament Teams
---
Standings
CQHA Amateur Team Tournament Standings
---
News
Check out the latest news, events and candids
---